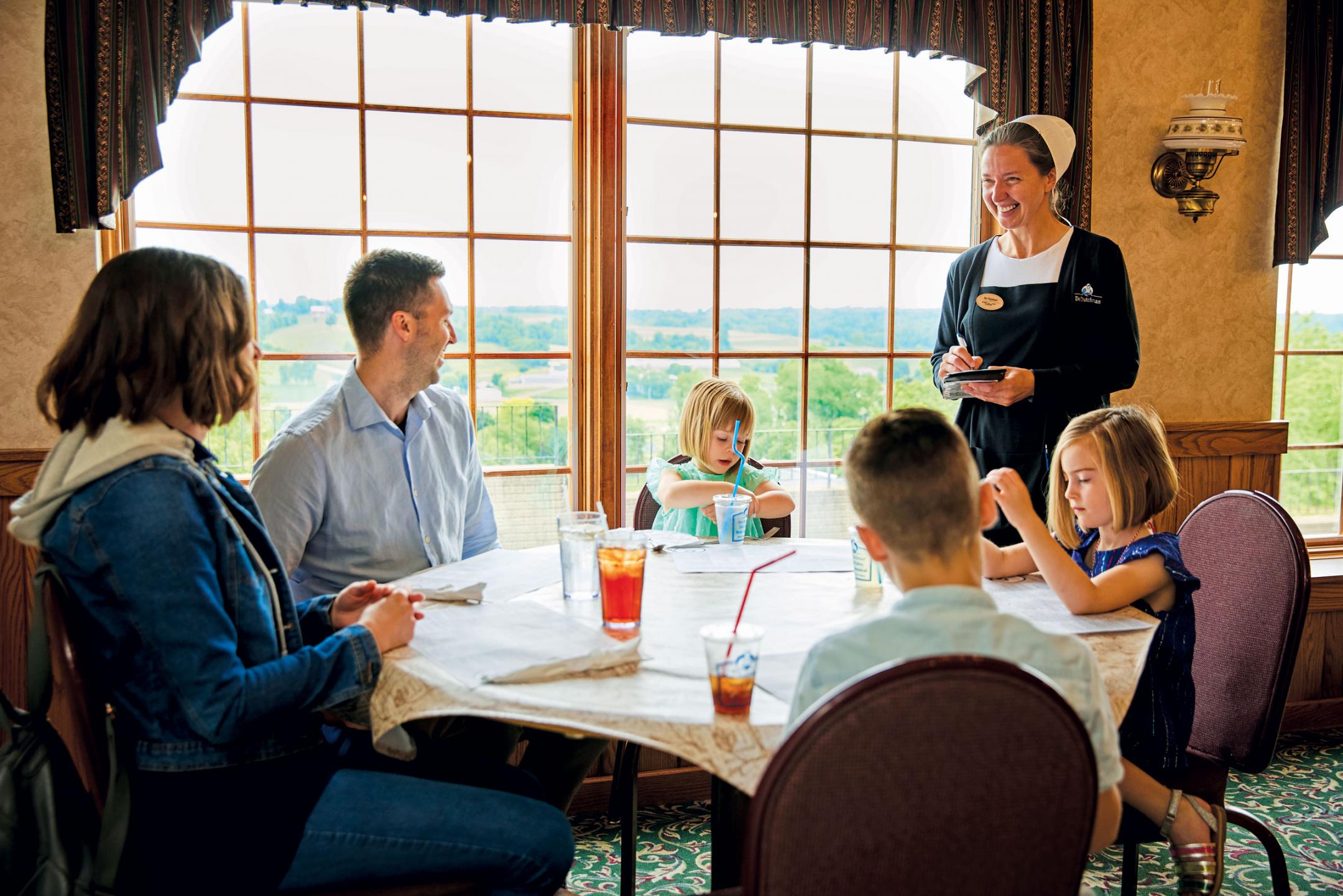 A Culinary Heaven in Holmes County
Holmes County feels both close to everything and like a secluded escape at the same time. A quick drive from almost anywhere lands you amongst its rolling hills and picturesque scenery, where you'll find a relaxing getaway that invites you to explore. Go on a culinary adventure throughout the region and you'll discover everything from down-home comfort foods to approachable but elegant fare. Try scratch-made baked goods and beautifully crafted cheeses. Explore expertly tended vineyards and modern breweries. You'll even find bulk foods to take home to stock your pantry. Come take a trip through the culinary heaven that is Ohio's Amish Country.
Plan your trip to Ohio Amish Country with sample itineraries, trip ideas and more!
Start Planning Now
Local Favorites
Billing itself as "A Gathering Place of Friends," Rebecca's Bistro in Walnut Creek makes its home in a log cabin dating back to the mid-1800s. Owners Rebecca and Jim Miller welcome guests with heart-warming breakfast and lunch dishes in the cozy cafe. Relax with a toasted marshmallow latte then dig into their signature stuffed French toast or creamed eggs with Swiss cheese on toasted sourdough. If you don't order some of Rebecca's tomato basil soup, you can purchase a quart to take home with you!
Visiting The Inn at Honey Run is a full experience, with their cottages and Frank Lloyd Wright-inspired accommodations, Open Air Art Museum, upscale dining and more than 50 stunning acres tucked into Holmes County. To craft the menu at Tarragon, their in-house restaurant, they source locally as much as possible, like honey from their hives, produce and herbs from their greenhouses and gardens. The chef-driven menu at Tarragon showcases delicacies like littleneck clams, fried pig ears and grilled pork chops.
You'll feel like a kid in a candy store when you step through the doors of Miller's Creamery in Millersburg. You won't know what to try first! The flavor of the week? Orange or black cherry sherbet? Soft serve in a waffle cone? A scoop of chocolate chip cookie dough ice cream? Miller's always delights its customers with decadent treats like hand-dipped ice cream, burgers and sundaes. Be sure not to miss the irresistible puffles — a fresh, made-to-order bubble waffle rolled into a cup and then stuffed with your favorite ice cream and toppings.
East Main Kitchen & Coffee sits in the heart of Baltic, Ohio, and treats guests to comfort food with a twist. Its modern design still captures the feel of a small-town diner, making it a popular community gathering space. It's easy to see why! Try the Miller Scramble smothered with gravy, the French dip with rich au jus, or the shrimp and grits with smoked sausage. Finish up with coffee and a slice of cheesecake, macarons, cookies or other decadent treats from the dessert case.
Amish Inspired
Dine on cuisine influenced by the area's Amish culture. Der Dutchman lets you bring your whole crew to feast on home-style Amish meals and enormous desserts. Can't decide? Hit up the buffet loaded with broasted chicken, roast beef, noodles and mashed potatoes. Visit the bakery to bring a taste of Amish cooking home with you: cream-filled donuts, Dutch apple pie, sweet rolls, jars of apple butter or Amish peanut butter spread, and so much more.
At more than a century in business, Troyer's Trail Bologna must be doing something right! Visitors to this shop in Trail, Ohio, love sitting at the counter to try the hot Swiss and bologna sandwich. The fourth generation of the Troyer family still makes their signature bologna using the original (and secret) recipe! So in addition to a sandwich, you definitely need to take some bologna home with you — including the cheddar and hot pepper cheese versions.
If you want to know where the locals eat in Holmes County, find a seat at the counter at Boyd & Wurthmann Restaurant in Berlin. The Amish and Mennonite staff will make you feel right at home. Breakfast starts early with 99-cent coffee, buttery biscuits and buckwheat pancakes. Lunch and dinner fill you up with hot roast beef sandwiches, noodles over mashed potatoes, cheeseburgers and pork chops. And did we mention the pie? Boyd & Wurthmann serves up almost 20 different varieties!
Berlin Farmstead is another favorite stop for home-style meals perfect for the entire family. Get an early start with a hearty breakfast of cornmeal mush, biscuits and gravy, or the Dutch Stack: homemade toast piled high with scrambled eggs, hash browns and sausage gravy. If your crew is really hungry, order the Barn-Raising Buffet and feast on mashed potatoes, roast turkey and meatloaf, then top it off with a giant slice of peanut butter cream pie.
Local Sips
It's not just what on your plate that's special here. Several local wineries offer a fresh sip of flavor, too. Sunny Slope General Store in Big Prairie has been part of Holmes County for nearly a century, and in 2016 added a winery to the mix. Winemaker Tom Bright crafts a range of fruit wines in small batches. Kick back fireside with a Big Prairie White, a rich Elderberry wine or a cooling wine slushy while you savor deli sandwiches in the picnic area or catch local live music on the patio.
In Dover, Breitenbach Wine Cellars' signature offerings include the crisp and sweet dandelion wine, the luscious blueberry wine and the tart cherry wine. Grab a glass and stroll through Breitenbach's lush hillside vineyards, then order freshly made salads and wood-fired pizzas from the cafe while you gather outside and listen to live music.
To try everything on tap at Millersburg Brewing Company, you'll want to order a flight! Sip the hoppy French Ridge IPA or the grassy and floral Lot 21 Blonde ale. A visit to the brewery is an immersive experience: dig into hearty meals made with a gastropub flare like pot stickers and nontraditional fig and goat cheeseburgers while you watch brewmaster Marty Lindon at work through the glass.
Doughty Glen Winery at Guggisberg in Millersburg offers the ultimate in wine and cheese pairings. Nearby Guggisberg Cheese Factory is famous as the birthplace of Baby Swiss cheese. Pair the signature Swiss with a collection of local meats and a glass of Gewurztraminer. Make a weekend of it at Guggisberg by booking an overnight stay and going horseback riding.
Step inside a piece of history at Baltic Mill Winery, a turn-of-the-century flour mill converted into a winery. The old chutes and machinery offer a unique backdrop in Baltic Mill's tasting room. Build a meat and cheese tray from local favorites like Pearl Valley Cheese and Baltic Country Meats. Their crisp Sauvignon Blanc, Pinot Grigio and Just Peachy are ideal summer sippers!
Speaking of wine and cheese, there's Han's Place, a winery and tasting room that's part of Broad Run Cheesehouse in Dover. Build your own cheese melt from baby Swiss, Danish blue or fontinella, then pair it with a Cheesemaker's Red, Han's Favorite blend of cherry and cranberry wines or the always-popular Coal Miner's Daughter watermelon wine.