Farmhouse Frocks
We are a small business located in Millersburg, OH. We carry clothing handmade by local Amish Seamstresses with sizes ranging from XS - XXX as well as handmade leather and cowhide bags locally crafted by an Amish maker. Along with our Frocks you will also find a wide array of chic accessories that include hats, glasses and jewelry in our store. We also have our own FHF Home line with home goods, decor, pillows and blankets.
Our mission at Farmhouse Frocks is to bring forth the beauty of women of all shapes and sizes. We are passionate about empowering women all the way from the maker to the consumer. Our goal is to inspire others so that they may feel worthy, confident, beautiful and passionate about who they are, exactly the way they are. Inside each of our Frocks is sewn a care label that reads 'You are 100% Beautiful,100% Unique, 100% Worthy, 100% God Made'.
Our best selling Frock we always carry in stock is the Rita Romper, a jumper that kickstarted the success of our business back in 2014. It features a large front pocket, two side pockets and two back pockets and adjustable tie straps. All of our handmade bags feature genuine leather and cowhides that are locally and ethically sourced. Our Willy Wallet is our best selling bag, made with an array of pockets with an interior zipper closure and a removable adjustable leather strap so that the wallet may be carried as a cross body or worn as a fanny pack.
We bring in new Frocks every week and love to share everyday what's new and happening at Farmhouse Frocks on our socials. Follow us on Instagram @farmhousefrocks and on Facebook to see all of our new products and crazy shenanigans we enjoy!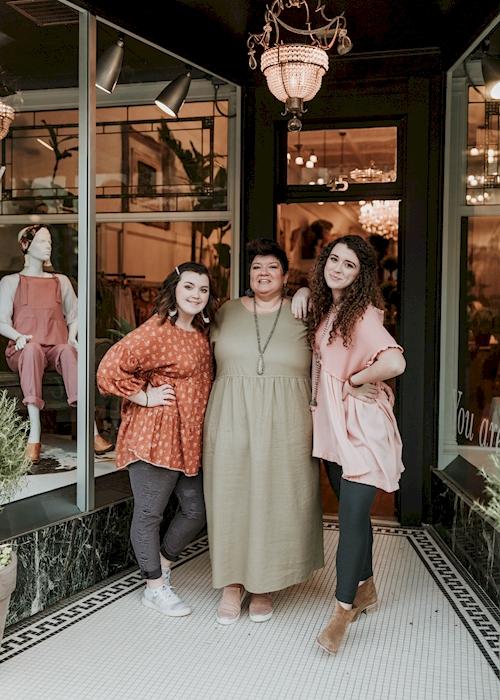 Contact Information
Address
45 West Jackson Street
Millersburg, OH 44654
Directions