Chocolate Tour 2021
May 14, 2021 — May 15, 2021
09:00am — 05:00pm
Location
1900 OH-39
Sugarcreek, OH 44681
United States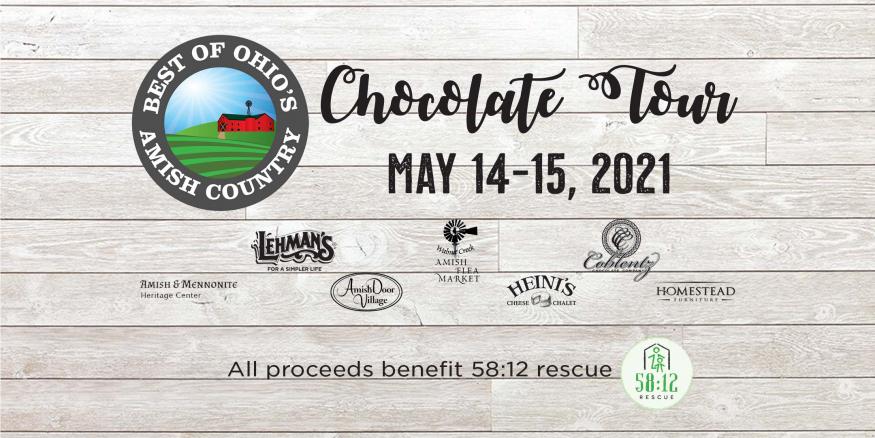 About This Event
Best of Ohio's Amish Country's incredible Chocolate Tour is back!
Seven stops at seven of the best destinations in Ohio's Amish Country to enjoy a unique chocolate treat designed by each business and custom-made by Coblentz chocolates!
All proceeds from this event benefit 58:12 Rescue, a great local organization dedicated to creating a safe space for women and children fleeing abusive situations. We're proud to support this organization, and you should be too.
Travel the roads of beautiful Amish Country, stopping to shop at seven venues and collecting delicious custom chocolates at each one. ENJOY the breathtaking springtime views only Amish Country can offer, TREAT YOURSELF to a leisurely day of shopping and SAVOR some truly delectable chocolate.
Sponsored by Best of Ohio's Amish Country, stops on the tour include Lehman's, Heini's Cheese Chalet, Coblentz Chocolate Company, Amish Door Village, Homestead Furniture, Walnut Creek Amish Flea Market, and the Amish and Mennonite Heritage Center.

Participants will register at Walnut Creek Amish Flea Market, where they will receive a box for collecting their chocolates. Each location on the tour will give out unique chocolate to add to the box, and a finished box will collect approximately 1lb. of chocolate.
Tickets are $25 each and can be purchased through Event Brite. All proceeds from the Chocolate Tour will be donated to 58:12 Rescue, an organization that provides rescue, shelter, and restoration to female victims of physical and sexual abuse. It is recommended that participants bring their own cooler to store their chocolates.
Free parking at all locations, including Walnut Creek Amish Flea Market